Search results for: "Rahma Sophia Rachdi"
CHEF IS GAGNAIRE AT FOUQUETS ST BART
Responsible Author: Jedi Foster P/O Rahma Sophia Rachdi | Paris, Washington DC, 10/20/2019, 01:25 Time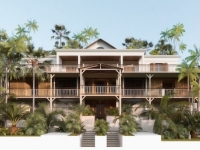 USPA NEWS -
Dominique Desseigne unveiled his latest, new Barrière hotel, named "Carl Gustaf Saint Barth", located on a hill, with a view on Saint Barthelemy Island. It is the most famous and rare island in the West Indies, in Caribbean, Saint Barths. The project was presented on October 15th at Fouquet's (75008) alongside Pierre Louis Renou and Gilles Bossier.Dominique Desseigne, appeared very soothing and distilled such quietude and serenity that his serenity sounded fair and seemed to conciliate sincerely with his speech and his desire to convey "the spirit of Fouquet's" as it corresponds to him and represents him. The CEO of the Barriere Group, spoke of "humanity letting go, generosity, and especially to" please the customer "and even" make customers happy ". All these key words seemed to resonate with a certain state of mind that combined luxury with simplicity, "refinement with humanity", prestige with modesty. This approach is at the same time imbued with great wisdom, naturally linked to the Barrière spirit, perpetuated by the leader of the group who puts the human at the heart of the very concept of this great Parisian Luxury House that has become so emblematic
AT GEORGES V AVENUE 15OCT-14NOV
Responsible Author: Jedi Foster P/O Rahma Sophia Rachdi | Paris, Washington DC, 10/20/2019, 00:50 Time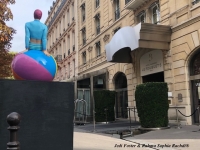 USPA NEWS -
Today, the Georges V Committee organizes a giant outdoor exhibition on the 15th of October from 18h until midnight, on the entire prestigious Georges V Avenue, in a one of a kind showcase, presenting five great renowned artists.(Feuerman, Marin, Kendell, Marin, Menau) After a speech in the open air, opposite the Prince de Galles hotel, where Remy Kanimadjian, Chairman of the Georges V Committee introduced the artists, stars of the MONUMENTAL exhibition, the CEO of BelairFineArt, Mr. Francois Chabanian, as well as the CEO of Palace Georges V and the five-star Hotel Prince de Galles, the American Carole Feuerman exposing her dancers and bathers, the young Charlotte Meno emerging photographer, Laurence Jenkall known for her (Peace Flavored Candies) sweets of peace and Marcos Marin the Brazilian Monegasque, also known worldwide for his monumental sculptures, before passing them the microphone for a speech.
| | |
| --- | --- |
| | Daren Frankish |
| | RAHMA-SOPHIA RACHDI |
| | Ruby BIRD |
| | Yasmina BEDDOU |
| | Ricardo Dominguez |