Search results for: "Rahma Sophia Rachdi"
BEYOND 1989 IN PRAGUE DEC 6 Part 1
Responsible Author: Jedi Foster P/O Rahma Sophia Rachdi | Paris, Washington Dc, 12/09/2019, 00:50 Time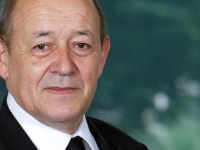 USPA NEWS -
Mr Jean-Yves Le Drian, French Minister for Europe and Foreign Affairs,
attended the conference "Beyond 1989: Hopes & Disillusions after Revolutions"
held in Prague, 6 December 2019, and made a remqkabel speech, that is now published by USPA, in two sections. This is the fort section of the remarks, by the French foreign Affairs Minister addressed at Charles university, Prague, alongside, Mr Thomas Zima Rector of Charles University, and Jerome Heurtaux, Director of the Academy of Sciences, head CEFRES. Here is is te full transcript of the speech. «  Dear friends,Thirty years have passed since 1989. A generation, who have gone from euphoria to doubt. I am profoundly European and I must say Europe is what drives my political engagement. I remember the enthusiasm and the jubilation of those days that, in autumn 1989, would change the face of our continent and would move all peoples of Europe, without exception. What strikes me today, as French Minister for Europe and Foreign Affairs, is that as each decade passes, we are less enthusiastic and less united in celebrating the commemorations of 1989. " Jean Yves le Drian stated as an introduction.
PRESIDENT OF EUROPEAN COMMISSION
Responsible Author: Jedi Foster P/O Rahma Sophia Rachdi | Paris, Washington DC, 12/06/2019, 03:11 Time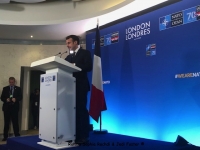 USPA NEWS -
Newly elected President of te European Commission, Ursula Von Der lyen, former Defaces Minster declared during the 30th anniversary of the Fall of tHe Berlin Wall, as she acknowledges the importance of to the alliance NATO  »In its 70-year history, much has changed in NATO. But one thing has always remained the same: NATO was and is always what its member states make of it," von der Leyen said in the German capital, according to the text of her speech. "It is up to 29 countries to get involved and make a difference. With words and deeds! She then praise NATO ahead of the Leaders Summit to be held in London to make the 70th anniversary in London, on 3-4th December : "In my view, NATO has proved to be an excellent protective shield of freedom despite all its ups and downs, right up to the last few weeks." On Wednesday, December 4th, during his Press conference, in the afternoon, as the NATO's summit is closing, President Macron, replied, to USPA, asking the French President Macron, if he proves the proposal of Ursula Von Der lYen to create a Security Council For Europe.The answer is YES. We are publishing the Q&A with President Emmanuel Macron, who actually developed his answer.
| | |
| --- | --- |
| | Daren Frankish |
| | RAHMA-SOPHIA RACHDI |
| | Ruby BIRD |
| | Yasmina BEDDOU |
| | Aurangzeb Akbar |