Search results for: "Jedi Foster"
STILL IN RUN IN FRENCHGERMAN BORDER CITY
Responsible Author: Rahma Sophia Rachdi, Jedi Foster | Paris, Washington, DC, 12/12/2018, 02:18 Time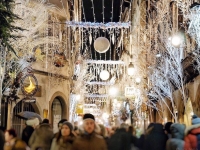 USPA NEWS -
A gunman, yet not localised, killed four people and seriously injured twelve, tonight at around 8pm, in Strasbourg at the most popular Christmas Market. Strasbourg is the French city base of the European Parliament and is at the French-German border. The shooter was wounded by soldiers before fleeing, police say. The attacker, is apparently, a French male of 29, born in France, according to the French media, and is on the "S" file terror watch list, by the Police records. It is the latest attack of a long list of sad terror attacks in France, since 2015, that killed more than 240 people. France is still struggling the last four week ends, with « Yellow Vests » social and political crisis, and Police forces under pressure already, before this attack hit. President Emmanuel Macron was due to attend a government crisis committee overnight.Interior Minister Christophe Castaner travels up to the scene in Strasbourg right away.  The French authorities have set up an emergency line for people with relatives or friends who may have been caught up in the attack . It is: 00-33- (0)811 000 667.
YET AGAINST THE ASSISTED BY THE STATE
Responsible Author: Rahma Sophia Rachdi, Jedi Foster | Paris, Washington DC, 12/10/2018, 23:34 Time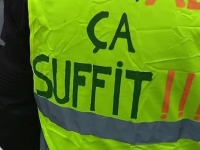 USPA NEWS -
The majority of Yellow Vests are workers, retirees, disabled people who explain are struggle in their livelihood....economically speaking, and also demand their president Macron to make a dep. change in the governance n France, because they feel that the MP's, senators, Ministers, and other Politicians are disconnected form their reality and take advantage of conventional privileges, that cannot match with the current crisis. There is a huge gap of financial privileges, for the Senators, Parliamentarians, Ministers etc, and the Minimum wage in France that has not been increased significantly fr decades. The Yellow Vests target the rich but also the "assisted by the state" part of heir anger....Because they fell inequality in the distribution of the National French Assets, towards the Rich who don't pay enough tax, in their opinion and the assisted who are exonerated form taxes, and archive social allowances for doing nothing...This explains that
| | |
| --- | --- |
| | RAHMA-SOPHIA RACHDI |
| | Robbie Merritt |
| | Ruby BIRD |
| | Yasmina BEDDOU |
| | Daren Frankish |