Search results for: "Food"
Focus on Reality
Responsible Author: Raina Ryan / Robbie Merritt | Sydney , Australia, 12/14/2018, 13:42 Time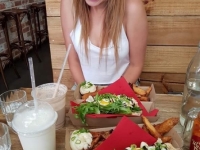 USPA NEWS -
I recently had the opportunity to talk to Australian musician Raina Ryan 26 of Sydney about her memoirs, specifically her 2017 body image and self inflicted starvation because she was told by too many industry professionals that she would never make it unless she lost weight. "I would never be taken seriously in the industry unless I lost weight", said Ryan who at the time weighed a mere 55 kilos.
Ryan went on to say,"I was told by prominent fashion designer, at the time based in Surry Hills that I needed to be under 50 kilograms for people to take me seriously."
In her soon to be released Memoirs, Ryan talks about people in the industry that placed psychological barriers in her way which led a wakeup call in October 2018 when she realised her health was suffering as a result of what she thought was a negative body image.
"I didn't know why I wasn't eating anymore at the time other than the fact I had realised how much food actually costs and I felt as though I didn't need to eat that much of it. I use to be such an emotional eater. As soon as I was miserable I would stuff my face with whatever I could get my hands on", said Ryan.
| | |
| --- | --- |
| | RAHMA-SOPHIA RACHDI |
| | Robbie Merritt |
| | Ruby BIRD |
| | Yasmina BEDDOU |
| | Daren Frankish |