Search results for: "Annual Recommandations By Think Tank Economie Sante"
AGNES BUZYN,Minister Solidarity & health
Responsible Author: Ruby BIRD & Yasmina BEDDOU (Journalists/Directors) | PARIS, 04/06/2019, 14:46 Time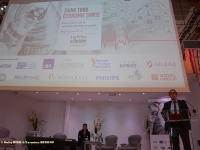 USPA NEWS -
The Doctor–Patient Relationship is a Central Part of Health Care and the Practice of Medicine. The Doctor–Patient Relationship forms one of the Foundations of Contemporary Medical Ethics. The Quality of the Patient–Physician Relationship is Important to Both Parties. The Doctor and Patient's Values and Perspectives about Disease, Life, and Time Available play a Role in building up this Relationship. A Strong Relationship between the Doctor and Patient will lead to Frequent, Quality Information about the Patient's Disease and Better Health Care for the Patient and their Family. Enhancing the Accuracy of the Diagnosis and increasing the Patient's Knowledge about the Disease all come with a Good Relationship between the Doctor and the Patient. Where such a Relationship is Poor the Physician's Ability to make a Full Assessment is compromised and the Patient is more likely to distrust the Diagnosis and Proposed Treatment, causing Decreased Compliance to actually follow the Medical Advice which results in Bad Health Outcomes.
| | |
| --- | --- |
| | Daren Frankish |
| | RAHMA-SOPHIA RACHDI |
| | Ruby BIRD |
| | Yasmina BEDDOU |
| | Roberto Magni |