Business
Why Do Most Efforts to Combat Corruption Fail?
Ignorance on corruption is their power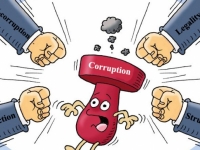 USPA NEWS - Whether you're a civil servant, a member of the media, a trade union member or official, a business person, an NGO worker, or an ordinary citizen, you CAN act against corruption, starting today! The benefits are better education, improved healthcare,a functioning justice system, enhanced development, strong democracy, and more prosperity for all.
Corruption is contagious! Many countries that suffer from corruption have a centralized anti-corruption body focused on combatting it. Other countries that do not suffer from corruption as much have decentralized bodies. It seems like there is a negative correlation between the two.

There are a very few centralized bodies that have actually succeeded in fighting corruption but most have failed. The reasons being quite obvious. When there is a centralized body to fight corruption, other departments will be involved. It is very easy for politicians and bureaucrats to buy officials. In a decentralized hierarchy, it is not that easy.
Corruption needs to be fought with integrity and honesty. Accountability must be made a habit in the agency and throughout the structure. Reforming society as a whole is the most effective step towards fighting corruption. Everyone should be accountable -- from clerks to the top leadership.

The strength of the people can shake any structure no matter how strong. Societies that do not tolerate corruption at any level are the ones that thrive. Political leadership is dependent on the people of the country. A society that does not tolerate any corruption – whether from leaders or themselves – will inevitably succeed.
Keywords: Corruption, Crimes, Fraud, Law, Combat Corruption, Audit, Business, Enterprise, Government
Liability for this article lies with the author, who also holds the copyright. Editorial content from USPA may be quoted on other websites as long as the quote comprises no more than 5% of the entire text, is marked as such and the source is named (via hyperlink).
| | |
| --- | --- |
| | RAHMA-SOPHIA RACHDI |
| | Robbie Merritt |
| | Ruby BIRD |
| | Yasmina BEDDOU |
| | Daren Frankish |