Business
Bako Ambianda Speaks at POWER-GEN International 2016
Bako Ambianda

| | |
| --- | --- |
| Bako Ambianda Speaks at POWER-GEN International 20 | Source: GAA News |
GAA News - Chairman of Labacorp Group, Mr. Bako Ambianda speaks at the world's largest power generation event, Power Gen International 2016 in Orlando, Florida on the topic " Using Solar as an Economic Empowerment Tool in Africa" under the renewable energy track.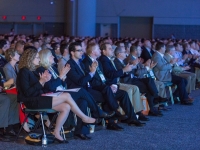 POWER-GEN International is the world's largest forum for power professionals, where experts throughout the world have been meeting for 29 years to discuss the mechanics, chemistry, operation and regulation of power generation. More than 21,000 industry professionals from around the world gathered in Orlando, Florida, for POWER-GEN International 2016, Dec. 13-15 at the Orange County Convention Center. During the three-day event, the most innovative and cost-effective solutions for maintaining, operating and building new power generation will be shared with attendees. More than 1,400 exhibiting companies from every sector of the industry showcased their products and services on the exhibit floor.
About Bako Ambianda
Bako Ambianda is an international development specialist, business strategist, and a global African entrepreneur. He is the Founder, Chairman, and CEO of Labacorp Group, a diversified holding company with strategic investments and core business interests in the manufacturing, construction, renewable energy, technology, real estate, hospitality, exhibition, tourism, and agribusiness industries. Labacorp Group of companies operates mainly in key sectors that drive growth and development with a footprint in Sub-Sahara Africa, North America, & Middle East. The group key operating subsidiaries include Labacorp Power Solutions, Labacorp Commodities Limited, and Global Attain Advancement, LLC.
Bako is an indisputable powerful connector with a global network who is among the next generation of corporate trailblazers. He has a track record of catalyzing significant development initiatives and has received various honors and awards for his leadership and authority in pioneering bold sustainable and innovative approaches to development. He is armed with knowledge, expertise, and understanding of business opportunities that exist in Africa, and speaks regularly on Doing Business in Africa at major international gatherings.
His specialties are strategic economic development, international trade & promotion, foreign direct investment & deal facilitation, sustainable development, globalization & cross-cultural team building, with leadership experience in all core sectors that Labacorp Group of companies operates. Mr. Bako is also an acclaimed author who has over seven books in the areas of professional and economic development. Bako is the creator and leading proponent of "Afridevelopism," an economic movement which embraces and promote development and social progress in Africa. He is a global citizen born and raised in Cameroon, Central Africa.

Keywords: #bakoambianda #labacorp #labacorpgroup #gaadvancement #bk
Liability for this article lies with the author, who also holds the copyright. Editorial content from USPA may be quoted on other websites as long as the quote comprises no more than 5% of the entire text, is marked as such and the source is named (via hyperlink).
| | |
| --- | --- |
| | Daren Frankish |
| | RAHMA-SOPHIA RACHDI |
| | Ruby BIRD |
| | Yasmina BEDDOU |
| | Aurangzeb Akbar |