Search results for: "France"
THAN IN FEBRUARY
Responsible Author: Jedi Foster P/O Rahma Sophia Rachdi | Paris, Washington DC, 09/15/2020, 03:01 Time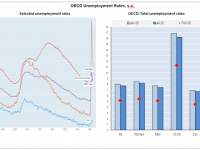 USPA NEWS -
The OECD area unemployment rate fell to 7.7% in July 2020, from 8.0% in June, but remained 2.5 percentage points above the rate in February, before the COVID-19 pandemic hit the labour market. The monthly fall for the OECD as a whole masks strong regional differences. In the euro area the unemployment rate in July increased for the fourth consecutive month, to 7.9% (from 7.7% in June and 7.3% in February), with increases of 0.3 percentage point or more in France, Ireland, Italy and Portugal. In Japan the unemployment rate nudged up marginally, to 2.9% from 2.8% in June, and is now 0.5 percentage point higher than in February.
DURING BARKHAN MILITARY OPERATION
Responsible Author: Jedi Foster P/O Rahma Sophia Rachdi | Paris, Washington DC, 09/08/2020, 00:45 Time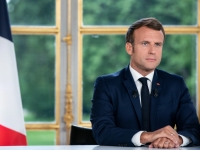 USPA NEWS -
The French President Emmanuel Macron, learned with great emotion of the death of two French soldiers, the first class brigadier-chief ST * and the first class parachutist hussar Arnaud Volpe, after the destruction of their armored vehicle by an improvised explosive device. , this morning during an operation in the Tessalit region in Mali.The President of the French Republic bows with deep respect to the sacrifice of these soldiers of the 1st Hussar Parachute Regiment of Tarbes, who died for France in the accomplishment of their mission against terrorism in the Sahel.He sends his sincere condolences to their families, loved ones and all their brothers in arms. He assures them of the nation's solidarity in these painful circumstances. He also fully supports their comrade injured in the same attack.
| | |
| --- | --- |
| | Daren Frankish |
| | RAHMA-SOPHIA RACHDI |
| | Ruby BIRD |
| | Yasmina BEDDOU |
| | Aurangzeb Akbar |