Search results for: "Alain Finkelkraut"
74% INCREASE IN ANTI SEMTIIC ACT IN 2018
Responsible Author: RSR, Jedi Foster | Paris, Washignton DC, 02/19/2019, 14:41 Time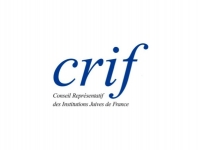 USPA NEWS -
The 74% increase in anti-Semitic acts in 2018, announced by the Minister of the Interior, reflects a disturbing liberation from anti-Jewish hatred. Portraits of Simone Veil desecrated with swastikas, grove in memory of vandalized Ilan Halimi, tag JUDEN on a shop window in Paris ... the last days alone testify to the banalization and violence of anti-Semitism in France in 2019.
The CRIF recalls that these statistics do not include acts that did not lead to a complaint, or anti-Semitic remarks on the Internet. They therefore only very partially reflect the reality of the "everyday anti-Semitism" facing the Jewish French.President Francis Kalifat calls for a "national leap against anti-Semitism." He recalls that beyond being a threat to Jews, anti-Semitism is a signal of the democratic weakening of our country. On the eve of the anniversary of the assassination of Ilan Halimi, Crif is hoping for a welcome leap from French society to break the wall of indifference that surrounds anti-Semitism.
PARIS PROSECUTOR OPENED INVESTIGATION
Responsible Author: RSR, Jedi Foster | Paris, Washington DC, 02/19/2019, 14:27 Time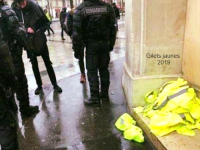 USPA NEWS -
Alain Finkielkraut, in the late afternoon, at the 14th district, of Montparnasse, Saturday 16th, during the Yellow Vest's protest.
Since then, The Paris prosecutor opened an investigation, Sunday, February 17, for "public insult because of the origin, the ethnie, the nation, the race or the religion" after the antisemitic insults of which the victim was the philosopher and writer, Alain Finkielkraut, Saturday, on the sidelines of the Parisian mobilization of "yellow vests". The investigation was entrusted to the Human Crime Suppression Brigade (BRDP). For his part, Alain Finkielkraut said he would not complain, saying "neither victim nor hero". Sunday night, on BFM, he said: "If I had gone through, I would have had my face smashed, I owe my greetings to the CRS cordon. Unfortunately, this is not the first time. I will not complain, I am not here to punish, but to understand. " The Paris prosecutor opened an investigation, Sunday, February 17, for "public insult because of the origin, the ethnie, the nation, the race or the religion" after the antis
| | |
| --- | --- |
| | RAHMA-SOPHIA RACHDI |
| | Robbie Merritt |
| | Ruby BIRD |
| | Yasmina BEDDOU |
| | Daren Frankish |