Search results for: "Great Atlas On Roman Antiquity"
Published by AUTREMENT Editions - FRANCE
Responsible Author: Ruby BIRD & Yasmina BEDDOU (Journalists/Directors) | PARIS, 02/17/2019, 10:24 Time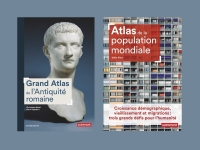 USPA NEWS -
- "GRAND ATLAS DE L'ANTIQUITE ROMAINE" (Atlas of Roman Antiquity) by Hervé INGLEBERT and Published by AUtrement Editions. This is the Second Editon. The Author is Roman History Lecturer at "Université De Rennes 2" and at "Université Paris-Nanterre". The Book covers the Time from IIIrd Century BC to VIth Century AD. It is divided Interestingly under the following Chapters : 1 - The Roman Empire (Towards The Universal Empire, The Imperial Republic, the Principality and the Roman Peace, the Empire Management, the Faces of Romanization ; 2 - Rome and the Barbarians (The Power of Rome, its Limits and Crises ; Roman Power, Christians and Barbarians : New Deal ; Barbarian People in the Empire ; Romans, Huns and Germans : Tripartite Political Game ; Time of Kingdoms ; the End of the Western Empire).
| | |
| --- | --- |
| | RAHMA-SOPHIA RACHDI |
| | Robbie Merritt |
| | Ruby BIRD |
| | Yasmina BEDDOU |
| | Daren Frankish |