Search results for: "Digital"
MAJOR GLOBAL ECONOMIC CHALLENGES AHEAD
Responsible Author: Ina von Ber | Washington,D.C., 04/18/2019, 00:23 Time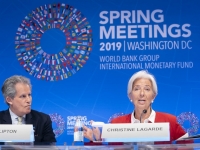 USPA NEWS -
During the Spring Meetings of the Boards of Governors of the World Bank Group (WBG) and the International Monetary Fund (IMF), Washington, D.C.,April 8-14, 2019, which brought together central bankers, ministers of finance and development, parliamentarians, private sector executives, representatives from civil society organizations and academics to discuss issues of global concern, IMF Managing Director Christine Lagarde said that while her agency is forecasting a rebound in growth next year that forecast is "precarious and subject to downside risks" with rising trade tensions a top threat.

Income Inequality Matters: How to Ensure Economic Growth Benefits the Many and Not the Few
Inequality in advanced countries has been a major issue, contributing to a loss of trust in institutions and democracy, and a sense that the elite have captured all the gains at the expense of the rest. Technology and globalization have created disruptions which we have not dealt with very well. The critical issue is not just inequality of income, but also inequality of opportunity and the fact that inequality is reproducing itself. While the middle class hollows out, tensions increase.
Maison De La Chimie, March 27,2019
Responsible Author: Ruby BIRD & Yasmina BEDDOU (Journalists/Directors) | PARIS, 03/28/2019, 14:49 Time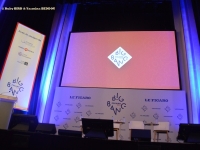 USPA NEWS -
A Decade ago, Smartphones (as we know them by today's Standards) didn't exist. Three Decades earlier, no one even owned a Computer. Think about that, the first Personal Computers arrived about 40 years ago. Today, it seems nearly everyone is gazing at a Glowing, Handheld Computer. Intuitively, it feels like Technology is progressing faster than ever. But is it really ? Change that is too fast can be Troublesome. Technology is advancing faster than Society can handle, with only the People creating these Advancements being able to understand them. If only an Elite can keep up, the Rest of Us will become increasingly confused about how Technology works. How will we ever be able to understand Nanotechnology or Quantum Mechanics if they keep accelerating away from us ?
| | |
| --- | --- |
| | Daren Frankish |
| | RAHMA-SOPHIA RACHDI |
| | Ruby BIRD |
| | Yasmina BEDDOU |
| | Roberto Magni |