Search results for: "Artificial Intelligence"
Maison De La Chimie, March 27,2019
Responsible Author: Ruby BIRD & Yasmina BEDDOU (Journalists/Directors) | PARIS, 03/28/2019, 14:49 Time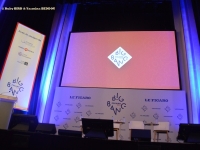 USPA NEWS -
A Decade ago, Smartphones (as we know them by today's Standards) didn't exist. Three Decades earlier, no one even owned a Computer. Think about that, the first Personal Computers arrived about 40 years ago. Today, it seems nearly everyone is gazing at a Glowing, Handheld Computer. Intuitively, it feels like Technology is progressing faster than ever. But is it really ? Change that is too fast can be Troublesome. Technology is advancing faster than Society can handle, with only the People creating these Advancements being able to understand them. If only an Elite can keep up, the Rest of Us will become increasingly confused about how Technology works. How will we ever be able to understand Nanotechnology or Quantum Mechanics if they keep accelerating away from us ?
| | |
| --- | --- |
| | Daren Frankish |
| | RAHMA-SOPHIA RACHDI |
| | Ruby BIRD |
| | Yasmina BEDDOU |
| | Roberto Magni |