Satans of politics in religion clothes
Responsible Author: Anmar Nazar Aldroubi | Iraq, 11/26/2018, 23:11 Time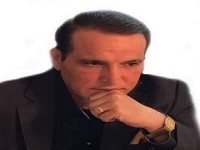 USPA NEWS -
Before Mikiavelli the jurisprudence of politics was leaning on a moral cane..Thus prince and ruler or even tumbler could not turn a blind eye to the wisdom and virtue of Platonism, even by covering up so ..
AND PURCHASING POWER LOWERING
Responsible Author: Rahma Sophia Rachdi, Jedi Foster | Paris, Wahsington DC, 11/16/2018, 12:59 Time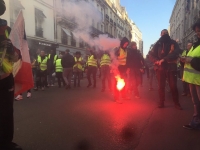 USPA NEWS -
A massive Citizen mobilization was successfully set up throughout all parts of France, by calling up for rally for protesting on Saturday and continues in places this Sunday. The demonstrators were wearing yellow vests, to protest symbolically, against the rise of the price of the fuel, but not only. Some others protested against the reduction of their purchasing power and what they consider too high and unfair, when it comes to the raise of new taxes delivered by the actual government. On the sidelines, one person died and hundreds more were injured. The demonstrators, had planned to block France against, including the increase in fuel taxes. They managed to mobilize. The "yellow vests" were indeed present from 6 am Saturday on the roads and other strategic points across the country. This Sunday, several actions and demonstrations were still in progress, in particular on the motorway network. Here are the numbers to remember: 2034 rallies, 287,710 protesters, 1 person killed, 409 wounded, 14 serious, 282 arrests. "28 police officers, gendarmes, motorcyclists, firefighters were injured and for some seriously," said Interior Minister Christophe Castaner.
AXEL DUCHEZ & MOUNIR MAHJOUBI
Responsible Author: Rahma Sophia Rachdi, Jedi Foster | Paris Washington DC, 11/14/2018, 12:31 Time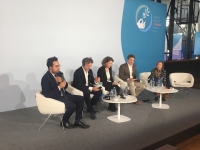 USPA NEWS -
Axel Duchez Founder of Change.irg, had a candid open conversation during the Paris Peace Forum, unveiling to launch of the "Sustainable Democracy Initiative" project. it is the first global alliance of Civic Tech states and cities to preserve democracy. On the occasion of the Paris Peace Forum on November 13th and at the initiative of the French Civic Tech Make.org, some thirty organizations of the Civic Tech *, States, Cities and politicians from around the world launch " the Sustainable Democracy Initiative ", a broad strategic partnership to save and sustain the democratic model.
This initiative was initiated by the Civic Tech to engage states and cities to allow citizens to collaborate in the very functioning of their institutions, beyond the electoral process. In return, the Civic Tech undertake to respect criteria making them compatible with the requirements of citizen trust and democratic sovereignty. The objective is to allow citizens to reappropriate the democratic institutions that protect them, the only way to effectively perpetuate democracy.
| | |
| --- | --- |
| | RAHMA-SOPHIA RACHDI |
| | Robbie Merritt |
| | Ruby BIRD |
| | Yasmina BEDDOU |
| | Daren Frankish |