Sports
MotoGP SpainGP Jerez Marc Marquez wins by going alone to the finish line
Marc Marquez Wins SpainGP of Jerez

| | |
| --- | --- |
| 1° Marquez -2° Zarco -3° Iannone | Source: Roberto Magni By Foto ReD Official Media Suzuki |
USPA NEWS - As if the Spanish of Honda was not already strong enough in olre has also benefited from the incident to the three drivers more direct pursuers so they push him direct at the top of the world assault with a great advantage. A masterful race performance by Marc Marquez at the Circuito de Jerez-Angel Nieto earned him and the Repsol Honda Team a second consecutive win and the leadership in both the Rider and Constructor Classifications. This was the 63rd win of Marc's career and his 37th in MotoGP (equalling Mike Hailwood's mark in the Premier class), and a great success at a track where he has always struggled, which demonstrates the great feeling he has with his RC213V this season.
On the other hand, a turn-six race incident on lap 18 prevented Dani Pedrosa from fighting for a podium finish that was clearly within his reach. The incident also involved Jorge Lorenzo and Andrea Dovizioso. Dani escaped a heavy high-side without major injury, but he suffered a hard blow to his right hip and will therefore wait until tomorrow before deciding whether to take part in the one-day test that the Repsol Honda Team will attend at the same Jerez track.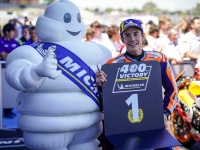 Marc Marquez Positon 1nd- Championschip: 1nd Points 70 "This win in front of these amazing fans is great! I'm very happy with the result, which is especially important at this track, because winning here is usually difficult for me. That said, I was convinced before the start that I could fight for the victory today. It was a tough weekend, but we did good work, and in the end I was able to manage the race in the best way, despite the fact that I wasn't the fastest rider out there today. The key was the rear-tyre choice; we made the decision after the warm-up to go with the medium, and that was the right move. Then I was able to take the lead at the right moment and push when I had the chance. I also had a big moment when I hit some dirt on the track. When I realized that the asphalt was covered in gravel, it was already too late. I closed the gas, but I had a huge slide! Let's say it was a bit of a 'Marquez style' show! I'm happy to have taken my first win at Angel Nieto's Circuit, and to have an advantage in the Championship. We'll have a test here tomorrow, and we'll try to continue the good work. It will be a long season and we must keep our focus high."
GP of Spain - Race Classification:
1. Marc MARQUEZ Repsol Honda Team 41'39.678
2. Johann ZARCO Monster Yamaha Tech 3 +5.241
3. Andrea IANNONE Team SUZUKI ECSTAR +8.214
4. Danilo PETRUCCI Alma Pramac Racing +8.617
5. Valentino ROSSI Movistar Yamaha MotoGP +8.743
6. Jack MILLER Alma Pramac Racing +9.768
7. Maverick VIÑALES Movistar Yamaha MotoGP +13.543
8. Alvaro BAUTISTA Angel Nieto Team +14.076
9. Franco MORBIDELLI EG 0,0 Marc VDS +16.822
10. Mika KALLIO Red Bull KTM Factory Racing +19.405
11. Pol ESPARGARO Red Bull KTM Factory Racing +21.149
12. Takaaki NAKAGAMI LCR Honda IDEMITSU +21.174
13. Bradley SMITH Red Bull KTM Factory Racing +21.765
14.Tito RABAT Reale Avintia Racing +22.103
15. Scott REDDING Aprilia Racing Team Gresini +36.755
16. Hafizh SYAHRIN Monster Yamaha Tech 3 +41.861
17. Xavier SIMEON Reale Avintia Racing +49.241
18. Karel ABRAHAM Angel Nieto Team 1 Lap
Not Classified
99 Jorge LORENZO Ducati Team
4 Andrea DOVIZIOSO Ducati Team
26 Dani PEDROSA Repsol Honda Team
35 Cal CRUTCHLOW LCR Honda CASTROL
12 Thomas LUTHI EG 0,0 Marc VDS
42 Alex RINS Team SUZUKI ECSTAR

Not Finished 1st Lap
41 Aleix ESPARGARO Aprilia Racing Team Gresini


MotoGP World Standings 2018:
1. Marc MARQUEZ Honda 70
2. Johann ZARCO Yamaha 58
3. Maverick VIÑALES Yamaha 50
4. Andrea IANNONE Suzuki 47
5. Andrea DOVIZIOSO Ducati 46
6. Valentino ROSSI Yamaha 40
7. Cal CRUTCHLOW Honda 38
8. Jack MILLER Ducati 36
9. Danilo PETRUCCI Ducati 34
10. Tito RABAT Ducati 24
10. Danilo PETRUCCI Ducati 21
11. Dani PEDROSA Honda 18
12. Alex RINS Suzuki 16
13. Franco MORBIDELLI Honda 13
14. Pol ESPARGARO KTM 13
15. Alvaro BAUTISTA Ducati 12
16. Hafizh SYAHRIN Yamaha 9
17. Takaaki NAKAGAMI Honda 9
18. Aleix ESPARGARO Aprilia 6
19. Mika KALLIO KTM 6
20. Jorge LORENZO Ducati 6
21. Scott REDDING Aprilia 5
22. Bradley SMITH KTM 3
23. Karel ABRAHAM Ducati 1
24. Thomas LUTHI Honda
25. Xavier SIMEON Ducati

more information: http://www.redmagazine.red
Keywords: Roberto Magni, Foto Red Photographic Agency, Marc Marquez, Motogp, Spaingp
Liability for this article lies with the author, who also holds the copyright. Editorial content from USPA may be quoted on other websites as long as the quote comprises no more than 5% of the entire text, is marked as such and the source is named (via hyperlink).
| | |
| --- | --- |
| | RAHMA-SOPHIA RACHDI |
| | Robbie Merritt |
| | Ruby BIRD |
| | Yasmina BEDDOU |
| | Daren Frankish |