Search results for: "Environment"
DISCUSSED AFRICA & GENDER EQUITY AGENDA
Responsible Author: Rahma Sophia Rachdi, Jedi Foster | Paris, Washington DC, 04/18/2018, 04:19 Time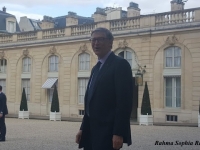 USPA NEWS -
Bill Gates Billionaire (Microsoft founder) and co-chairs with his wife Melinda of the foundation, who bears their respective first names have both been received at the presidential palace. "I appreciated the chance to see President Macron, and Melinda and I had a good meeting with him, discussing his commitment to development, the work we are doing together, especially in Africa, in the region of Sahel, on issues like health and agriculture " " I'm really pleased to the partnerships and the commitments that we both have to improve undeveloped countries"said Bill Gates after a meeting with the Head of State at the Elysee. Melinda Gates stayed longer at the Elysee to talk to Brigitte Macron, the first lady to discuss issues about gender equity. I had the chance to ask him two questions, about Melinda his wife and the issues to be discussed with Brigitte Macron who is very much concerned about education and disability, in our society.
| | |
| --- | --- |
| | Robbie Merritt |
| | DENNIS WARD |
| | Jose A Martin |
| | Ricardo Dominguez |
| | Ruby BIRD |
This will be shown to users with no Flash or Javascript.