Search results for: "Borders"
meetings of 28-29 June 2018
Responsible Author: Rahma Sophia Rachdi, Jedi Foster | Paris, Wahsington DC, 06/30/2018, 01:48 Time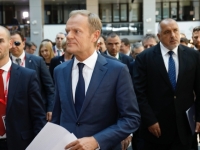 USPA NEWS -
"Good afternoon. We have just finished a long European Council with the following outcomes. As regards our deal on migration, it is far too early to talk about a success. We have managed to reach an agreement in the European Council. But this is in fact the easiest part of the task, compared to what awaits us on the ground, when we start implementing it." Donald Tusk said as introductory of his keynote President of European Council on June 29th. The European Leaders reached an unprecedented agreement to solve the migrant crisis, during the European Council held in Brussels on June 28-29th. President Macron said it was a "significant agreement, and a first step forward". This European Council was of high level of importance during the tensions due to the divergent positions, about the migrant situation. Even Europe's future was put in a balance versus the challenge of humanity and efficient legal migration, according to the European rules. Leaders agreed that this was a challenge not only for a single EU country, but for Europe as a whole. The European Council called for further measures to reduce illegal migration and prevent a return to the uncontrolled flows of 2015.
AS HE TOOK THE LEADERSHIP
Responsible Author: Rahma Sophia Rachdi, Jedi Foster | Paris, Washington DC, 06/30/2018, 01:45 Time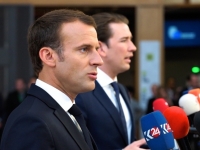 USPA NEWS -
The European Union issued a stark assessment of the gridlocked Brexit talks Friday, saying there's been "no substantial progress" on the key issue of the Irish border and advising EU nations to ramp up their preparations for the possibility that Britain could crash out of the bloc without a deal. In conclusions at a Brussels summit, the 27 other EU nations told the U.K. that it must produce "realistic and workable proposals" for what kind of post-Brexit relationship it wants.The President Macron took the leadership alongside with Angela Merkel, German Chancellor, by tackling the tough issue of the migrant crisis, since the Spanish welcomed the las "Boat people" called "Aauarius", and set over France mots of the refugees, despite the critics of the Italian PM, Giueseppe Conti and refusing to welcome them in his country. Here is the integrity of the Remarks by the French President Emmanuel Macron, during the Press Conference at the European Council of 28-29 June 2018.
| | |
| --- | --- |
| | RAHMA-SOPHIA RACHDI |
| | Robbie Merritt |
| | Ruby BIRD |
| | Yasmina BEDDOU |
| | Daren Frankish |
This will be shown to users with no Flash or Javascript.