Search results for: "Australia"
ICE CRICKET SIZZELS IN THE MOUNTAINS
Responsible Author: Ina von Ber | St.Moritz, Switerland, 02/18/2018, 17:30 Time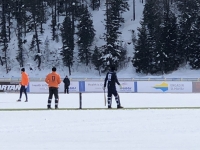 USPA NEWS -
St. Moritz became the center of the first ever Ice Cricket tournament on 8 and 9 February 2018. The event took place in the breathtaking backdrop of the Swiss mountains in freezing cold temperatures. Shahid Afridi's royals stun Virender Sehwag-led diamonds to win series 2-0 Jacques Kallis scored a notable knock of 90 runs (not out) as Royals chased down the target in 16.4 overs for the loss of two wickets.
Stars from India, England, Australia, South Africa, New Zealand and other Commonwealth nations played two cricket games on the frozen Lake of St. Moritz. Pakistan and India, mutually hostile to one another, displayed great sportsmanship. In the colonial era, both countries belonged to British India, before two nations emerged from India and Pakistan with independence from the British Empire in 1947. With the split came the dislike: the two nuclear powers have been at war with each other three times.
Psychotherapist Model Healing The World
Responsible Author: Robbie Merritt | Sydney , Australia, 01/25/2018, 07:43 Time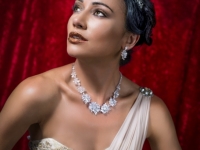 USPA NEWS -
Take one of Australia's most desired 'Fashion Catwalk, TV and Commercial Print models then talk to her about her ambitions,her life and you soon discover she is one of, if not 'THE' most educated and intelligent model in the country.Laura Db may seem like just your average high profile beauty on a catwalk but what makes her so headhunted by corporations is her credibility and authenticity understanding what the client wants as an end result. Laura Db proudly holds an 'Undergraduate Degree in Education Linguistics' as well as 'Postgraduate studies in Counseling and Psychotherapy'. Take years of modelling experience and an information packed Blog to help you over come 'Fear' to coming to terms and dealing with a breakup. Laura Db spends her days in 'Welfare' for Australian Tertiary Providers helping others and after hours being pampered by makeup, cameras and beautiful couture shooting for catalogues and TV Commercials..
| | |
| --- | --- |
| | RAHMA-SOPHIA RACHDI |
| | Ruby BIRD |
| | Yasmina BEDDOU |
| | Daren Frankish |
| | Robbie Merritt |
This will be shown to users with no Flash or Javascript.