Search results for: "Zayad Alshaikhli"
The Iraqi situation
Responsible Author: Anmar Aldruby. | Iraq-Baghdad, 12/13/2017, 01:56 Time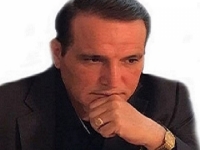 USPA NEWS -
Translated by David Al Bayaty
It is known that judgment is the title of truth !
which truth you speak and which justice you demand? About
Is it the truth of the mandate of Satan Khamenei, as some officials in Iraq call it (Mr. Commander) ?!
Is it the truth of the international criminal Qassim Soleimani?
Or the justice of the state of militias and gangs led by internationally wanted criminals (INTERPOL)?
Perhaps it is the justice of the Iraqi judiciary, which releases the corrupt and the terrorists by the orders of the parties and the influential political forces and specifically the hegemony and dominance of the Dawa Party under the chairmanship of Nuri al-Maliki on the judicial system!
A sports dream comes true in Baghdad
Responsible Author: Aras Habib | Iraq, 12/02/2017, 03:34 Time
USPA NEWS -
In the presence of a large public who cheered Iraq, the national champion Riyadh Al-Azzawi won the World Kickboxing Championship for the seventh time in a row on Friday, November 24th. The championship, which was held for the first time in Iraq and the Arab world, took place in the "Stadium of the people" in Baghdad.
16 players from different nationalities and competing in various weight categories, came from all over the world to take part in this championship which opened with the national anthem followed by a minute of silence in mourning of the souls of the Iraqi martyrs.
| | |
| --- | --- |
| | RAHMA-SOPHIA RACHDI |
| | Ruby BIRD |
| | Yasmina BEDDOU |
| | Daren Frankish |
| | Robbie Merritt |
This will be shown to users with no Flash or Javascript.