Search results for: "Usa"
Cooperation should secure world peace
Responsible Author: Andreas Wisuschil | Munich, 07/16/2018, 17:35 Time
USPA NEWS -
Russian President Putin said after today's meeting with US President Trump in Helsinki: that the ideological controversy between Russia and the US has long been history - and that one must solve world political problems together within the framework of cooperation between the US and Russia. They mentioned the worldwide challenge of preventing nuclear weapons, international terrorism and international crime. In addition, the solution of regional conflicts. Likewise, Russian President Putin mentioned a strategic cooperation of the intelligence services of Russia and the USA. In addition, cooperation between Russia and the United States on global economic issues was emphasized. A common guarantee of global cyber security was also emphasized. The Russian side submitted to the US side a list of proposals for concrete cooperation projects.
AMBASSADOR OF THE STATE OF QATAR TO US.
Responsible Author: Alain TCHEGNON | Washington DC, 07/16/2018, 03:42 Time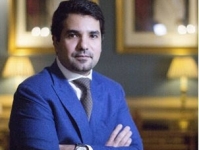 USPA NEWS -
His Excellency Sheikh Meshal Bin Hamad Al-Thani, Ambassador of the State of Qatar to the United States of America, assumed his post in Washington D.C. in December 2016. Prior to serving as the lead Qatari diplomat in the U.S., Ambassador Al-Thani was the Qatari Ambassador to France from November 2013 to October 2016.
For three years, he dedicated his expertise and efforts to strengthening the Qatari-French bilateral relations and the EU-Qatari relations at large.
| | |
| --- | --- |
| | RAHMA-SOPHIA RACHDI |
| | Robbie Merritt |
| | Ruby BIRD |
| | Yasmina BEDDOU |
| | Daren Frankish |
This will be shown to users with no Flash or Javascript.