Search results for: "Un Monde Sans Travail"
By Tiffany BLANDIN Published in FRANCE
Responsible Author: Ruby BIRD & Yasmina BEDDOU (Journalists/Directors) | PARIS, 10/03/2017, 07:22 Time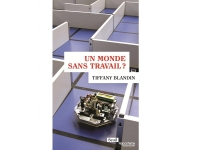 USPA NEWS -
Most Jobs that exist Today might disappear within Decades. As Artificial Intelligence outperforms Humans in more and more Tasks, it will replace Humans in more and more Jobs. Many New Professions are likely to appear. The Crucial Problem isn't creating New Jobs. The Crucial Problem is creating New Jobs that Humans perform better than Algorithms. Consequently, by 2050 a New Class of People might emerge : the Useless Class. People who are not just Unemployed, but Unemployable.
| | |
| --- | --- |
| | RAHMA-SOPHIA RACHDI |
| | Ruby BIRD |
| | Yasmina BEDDOU |
| | Daren Frankish |
| | Robbie Merritt |
This will be shown to users with no Flash or Javascript.