Search results for: "Speech"
AFRICA MUST LOOK THE FUTURE&MOVE FORWARD
Responsible Author: Rahma Sophia Rachdi, J Foster | Paris, Washignton DC, Zanzibar, 12/04/2017, 18:43 Time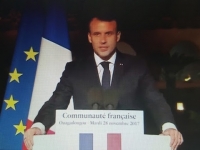 USPA NEWS -
French President Emmanuel Macron began his first tour of Africa with a speech to youth in Burkina Faso in a hearing of young students, University Joseph Ouagadougou. President Macron told a young student that he is not responsible for air-conditioning in Africa and that it is the role of their speaker "in response to his down-to-earth and understandable question of non-accessibility to air-conditioning. In Burkina Faso, the President advised students to "get to work" to succeed in their studies, adding that "students are often paradoxical, but those are much more than others." The classroom was in delirious, with applause and warm bursts and enthusiasm overflowing excited students, who performed a show.The President Macron was even found to organize the speeches as the disorder was general! The atmosphere was electric and crazy , as never seen during the visit of a French Head of State, because for once the students have felt that President Macron spoke to them "as equals, without loophole and very frankly with a e disconcerting honesty! The Burkinabé President Kaboré left the room, during this exchange with the young student about air conditioning.
| | |
| --- | --- |
| | RAHMA-SOPHIA RACHDI |
| | Ruby BIRD |
| | Yasmina BEDDOU |
| | Daren Frankish |
| | Robbie Merritt |
This will be shown to users with no Flash or Javascript.