Search results for: "Political Crisis"
SINCE RESIGNATION OF COLLOMB A WEEK AGO
Responsible Author: Rahma Sophia Rachdi, Jedi Foster | Paris, Washington DC, 10/09/2018, 23:16 Time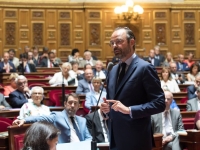 USPA NEWS -
While the reshuffle is long overdue, it appears that the final list of ministers is not yet over ?
Is the reshuffle the best solution to be profoundly revised for the Philppe's II government. Why is the reshuffle taking so longer than expected, as the opposition is getting too impatient, one week after the resignation of Interior Minister Gerard Collomb ? One of the assumptions is that the list of government members would not be complete yet, hence it is growing in magnitude at the impatience of the opposition. Reportedly, Emmanuel Macron and Edward Philipe would have faced at least five candidates who declined the offer to join the government, including the Ministries of Interior and Culture.
ANGER AGAINST MACRON & GOVERNMENT
Responsible Author: Rahma Sophia Rachdi, Jedi Foster | Paris, Washington DC, 10/09/2018, 22:07 Time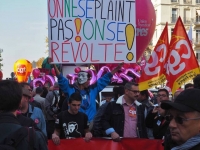 USPA NEWS -
Today Tuesday, October 9, it was a day of strike and demonstrations to defend the "social model", with several excesses that took place, especially in Paris. A large procession of the demonstration organized in Paris by the unions, has gathered 21 500 persons, according to the organizers and 21 500 according to the ministry of the interior. The goal is to protest against reforms affecting pensions, unemployment insurance or even Parcoursup, was stopped in the middle of the afternoon for several tens of minutes because of clashes between some demonstrators and the forces of order. According to BFMTV, four people were arrested.Meanwhile, President Macron was at Station F, famous FrenchTech for the 2000 entrepreneurs who came to see Station F, "incubator" start-up founded by Xavier Niel, CEO of Free.The President defended social rights and social security protection entrepreneurs who are successful in digital. The French, and especially the parlements and oppsotion become impatient about the reshuffle, since the departure of his Minister of the Interior Gerard Collomb.
| | |
| --- | --- |
| | RAHMA-SOPHIA RACHDI |
| | Robbie Merritt |
| | Ruby BIRD |
| | Yasmina BEDDOU |
| | Daren Frankish |
This will be shown to users with no Flash or Javascript.