Search results for: "Jedi Foster"
HE WAS SECURITY CHIEF AT ELYSEE
Responsible Author: Jedi Foster | Paris, Washington DC, 07/20/2018, 22:21 Time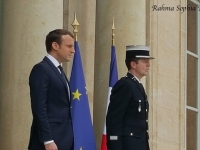 USPA NEWS -
This Wednesday, July 18, Le Monde unveiled a video in which we see Alexandre Benalla, collaborator Emmanuel Macron, hit a protester on May 1 in Paris. Officially, Alexandre Benalla was, until this event, deputy chief of staff of the President of the Republic. In particular, he dealt with security issues at the Elysee. Alexandre Benalla was put in custody today, then released. A judicial inquiry was opened by the prosecution.
In the past, the young man has worked with many political figures including Arnaud Montebourg. The latter had hired Alexandre Benalla as a driver during the 2012 presidential campaign but had separated from him "after a week after a first-class misconduct: he had caused a car accident in my presence and wanted to run away, "says the former Socialist Minister to the World. Many personalities of the world of politics, but especially of the opposition are raised about this business and the "weakness of sanction" against Alexandre Benalla, who posed as a police officer and acts by violence on the young student who was demonstrating on May 1 in Paris. The French Parliament has also launched a commission of inquiry at the request of parliamentarians on Monday 23 July
BY SCORING 4-2 AIGAINST CROATIA
Responsible Author: Rahma Sophia Rachdi, Jedi Foster | Paris, Washington DC, 07/15/2018, 20:14 Time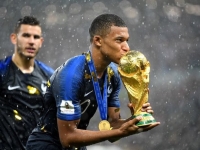 USPA NEWS -
France has won the 2018 FIFA World Cup, defeating Croatia 4-2. LES BLEUS, Team France wins the FIFA finale against Croatia and brings home gold, twenty years later, since they we're champion of the world, in 1998, by defeating Brazil.
The players celebrated their victory as they received the Golden Cup, by the French President Macron, and Vladimir Poutine, and danced in the rain that hit Luzhniki Stadium in Moscow right at the time of the final whistle. The youngest player Kyllian Mbappe, is awarded the golden player who scored 4 goals during 7 matches. The s talented player who is only 19, has been very remarkable dragon the world cup tournament, showcasing not only his talent but also his kind generous and sociable personality. Meanwhile France is celebrating the victory in most of the cities, as 250 fan zones, were set up, for the final, and especially Paris where the nearly One million people is gathered at Champs Elysee, the so called "Most beautiful " Street fo the world.
| | |
| --- | --- |
| | RAHMA-SOPHIA RACHDI |
| | Robbie Merritt |
| | Ruby BIRD |
| | Yasmina BEDDOU |
| | Daren Frankish |
This will be shown to users with no Flash or Javascript.