Search results for: "Jedi Foster"
LOFVEN TO ATTEND PARIS AGREEMENT DAY
Responsible Author: Rahma Sophia Rachdi, J Foster | Paris, Washington DC, Goteberg, 11/17/2017, 21:48 Time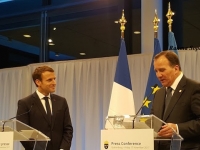 USPA NEWS -
The French President Macron and Swedish Prime Minister Stefan Lofvel signed a partnership called " Innovation and Green Solutions" at Volvos' Headquertss in Goteberg. Stefan Lofvel announced he will be attending the Paris Agreement Day, of 12-12-2015, in Paris. After a short visit of Volvo's technologies and Swedish innovations, the two head of states gave a press conference at Volvo's lobby, after they signed the partnership.
GOTEBERG-16-17 NOVEMBER
Responsible Author: Rahma Sophia Rachdi, J Foster | Paris Washington DC, 11/17/2017, 15:06 Time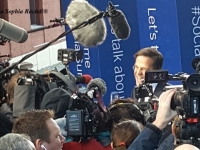 USPA NEWS -
Today, European Union leaders have solemnly proclaimed the European Pillar of Social Rights at the Social Summit for fair jobs and growth in Gothenburg, Sweden. The Pillar was first announced by President Juncker in his 2015 State of the Union Address and presented by the Commission in April 2017. Today it was signed by President Juncker for the European Commission, President Tajani for the European Parliament and Prime Minister Ratas for the Council of the European Union. The two great leaders of UEM Emmnauel Macron and Angela Merkel met in Bonn on the sidelines of COP23, two days ago, to prepare for this great summit on labor. Indeed, Angela Merkel can not be present today, retained by his denier stage of meeting on the coalition. President Farncais, Emmanuel Macron is present at Goteberg and will give a press conference at 15:45 at the Press Center, Hotel Comfort. The day in Sued is cool but sunny and the social summit takes place in an old hangard for the occasion, which the delegations have joined thanks to a Ferry.
| | |
| --- | --- |
| | RAHMA-SOPHIA RACHDI |
| | Ruby BIRD |
| | Yasmina BEDDOU |
| | Daren Frankish |
| | Robbie Merritt |
This will be shown to users with no Flash or Javascript.