Search results for: "India"
Gossip Is Sin
Responsible Author: Doruvu Paul Jagan Babu | Proddatur, Andhra Pradesh, India, 03/18/2017, 16:46 Time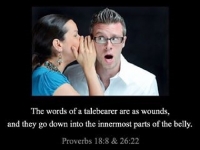 USPA NEWS -
'The words of a talebearer are as wounds, and they go down into the innermost parts of the belly. Proverbs 18:8'
Gossip is sin, and it is cruel and painful sin. Spreading news about a person can ruin a reputation and destroy friendships.
Modi's Charm Similar to that of Big B.
Responsible Author: Bill Sandhu | Vancouver, 03/14/2017, 13:54 Time
USPA NEWS -
Now, that the assembly elections are over, it is easy to analyse why Prime Minister Narendra Modi won and others lost. There is also a lesson for future, particularly 2019, about the kind of subjects that shouldn't be raked up by political outfits against Modi as they will simply not work.
| | |
| --- | --- |
| | Ruby BIRD |
| | RAHMA-SOPHIA RACHDI |
| | Yasmina BEDDOU |
| | Daren Frankish |
| | Jose A Martin |
This will be shown to users with no Flash or Javascript.