Search results for: "Immigration"
STRATEGIC BILATERAL PLAN FOR SECURITY
Responsible Author: Rahma Sophia Rachdi, Jedi Foster | Paris, Washingotn DC, 04/13/2018, 00:41 Time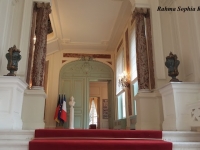 USPA NEWS -
French Interior Minister Gerard Collomb received his counterpart, the German Minister of the Interior Horst Seehofer, at the department at Place Beauveau. The German minister has just been appointed to the new German coalition government and has already provoked his first controversy a month ago. The Minister of the Interior, Seehofer who is positioned very right, thus triggered his first controversy by taking the place of Islam in Germany, less than two days after the inauguration of Angela's new government Merkel. The two ministers Collomb and Seehofer have absolutely disagreed with the possible means of regulating immigration within the European Union, since the absorption of the "1 Million" of refugees by Angela Merkel and she has been criticized, after the "non-integration of some immigrants". This meeting comes just days before the presentation of the law "Asylum & Immigration, integration" of Gerard Collomb in the French Parliament, and this, under many criticisms from the associations for the defense of human rights and protection of refugees. The vote should take place next weekend, Saturday, April 21 next.
| | |
| --- | --- |
| | Robbie Merritt |
| | DENNIS WARD |
| | Jose A Martin |
| | Ricardo Dominguez |
| | Ruby BIRD |
This will be shown to users with no Flash or Javascript.