Search results for: "Gerard Collomb"
SINCE RESIGNATION OF COLLOMB A WEEK AGO
Responsible Author: Rahma Sophia Rachdi, Jedi Foster | Paris, Washington DC, 10/09/2018, 23:16 Time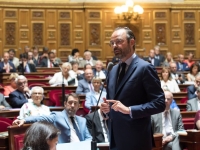 USPA NEWS -
While the reshuffle is long overdue, it appears that the final list of ministers is not yet over ?
Is the reshuffle the best solution to be profoundly revised for the Philppe's II government. Why is the reshuffle taking so longer than expected, as the opposition is getting too impatient, one week after the resignation of Interior Minister Gerard Collomb ? One of the assumptions is that the list of government members would not be complete yet, hence it is growing in magnitude at the impatience of the opposition. Reportedly, Emmanuel Macron and Edward Philipe would have faced at least five candidates who declined the offer to join the government, including the Ministries of Interior and Culture.
BECAUSE OF TERRORISM & DRUG TRAFFIC
Responsible Author: Rahma Sophia Rachdi, Jedi Foster | Paris, Washington DC, 10/07/2018, 00:31 Time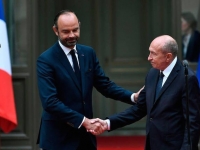 USPA NEWS -
The outgoing French Interior Minister warns in his farewell speech against the critical situation of the suburbs and the rise of violence in France and announces that "France is close to a" Civil War "against terrorists and drug traffickers, who apply the law of the strongest "in the French suburbs. This alarmist alert occurred during the handing over, on 3 October 2018, of the resignation of Gerard Colomb, Minister of the Interior, which he pronounced thus at Place Beauveau (Ministry of the Interior), the resignation chose to to leave the government for reasons of "disagreement" and also to pray for the next municipal elections or he represents himself at the city hall of Lyon.
| | |
| --- | --- |
| | RAHMA-SOPHIA RACHDI |
| | Robbie Merritt |
| | Ruby BIRD |
| | Yasmina BEDDOU |
| | Daren Frankish |
This will be shown to users with no Flash or Javascript.