Search results for: "Europe"
FLIGHTS ARE READY FOR TAKE OFF
Responsible Author: Ina von Ber | San Diego, CA, 03/24/2018, 16:11 Time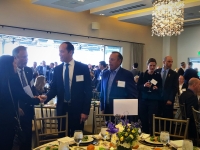 USPA NEWS -
German flagship airline Lufthansa has expanded its international service to Southern California citing strong demand and an open market. The inaugural nonstop flight between Frankfurt and San Diego landed Thursday at Lindbergh Field and was met by a cheering crowd. The Lufthansa flight will operate year-round, five days a week, according to airline officials. The new flights will allow for connections to key European markets, as well as high-traffic business destinations.
Anniversary of the 22/3 attacks
Responsible Author: Daren Frankish - European Parliament | Brussels, 03/22/2018, 19:43 Time
USPA NEWS -
Terrorism: Statement on the anniversary of the 22/3 attacks.
European Parliament President Antonio Tajani and Nathalie Griesbeck, Chair of Special Committee on Terrorism, issued the following statement paying tribute to victims and their families.
| | |
| --- | --- |
| | Robbie Merritt |
| | DENNIS WARD |
| | Jose A Martin |
| | Ricardo Dominguez |
| | Zayad Alshaikhli |
This will be shown to users with no Flash or Javascript.