Search results for: "Ceo"
INNOVATION, GENDER GAP, FINTECH
Responsible Author: Ina von Ber | Washington, DC, 06/15/2017, 20:08 Time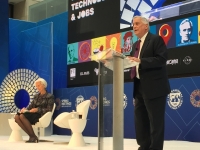 USPA NEWS -
Innovation shapes our work, private life, and social networks. It creates opportunities for new sources of growth and new kinds of jobs, affecting societies, labor markets, and institutions. The benefits are tangible, but so is the reality that not all demographic groups and societies can adapt to new technologies at the same rate. This raises some important questions: What drives or hinders innovation? How can technological progress be used in advanced and emerging market economies to foster inclusive growth? How can policymakers foster innovation while also responding to major changes, including increased job automation? How do we maintain a qualified, competitive workforce in this fast-paced environment? Properly addressing these questions will ensure that innovation yields dividends for all.
APS Release WAOSK Campaign Thank You Vid
Responsible Author: Tracey Bond, PhJrn | DeKalb, 06/01/2017, 06:20 Time
USPA NEWS -
Mary CEO of A Perfect Silhouette (APS) celebrates their "We Are Our Sisters Keeper" (WAOSK) with the release of a warm 'Thank You" video message along with donations collected to 'lift support' for women at Safe Passage, Inc., DeKalb, IL.
| | |
| --- | --- |
| | RAHMA-SOPHIA RACHDI |
| | Ruby BIRD |
| | Yasmina BEDDOU |
| | Daren Frankish |
| | Robbie Merritt |
This will be shown to users with no Flash or Javascript.