Search results for: "Canada"
BY THEIR DYNAMISM AND PROGRESSISM
Responsible Author: Rahma Sophia Rachdi, Jedi Foster | Pafris, Washington DC, 04/16/2018, 20:24 Time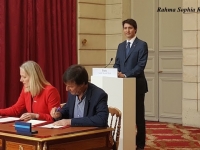 USPA NEWS -
Emmanuel Macron Justin Trudeau are one of the youngest leaders in the world; This is new and unprecedented, but it does not prevent their rule at the head of large countries like France and Canada aged 40 and 46 respectively, They expressed their political visions which "converge" as respectively the President and the Canadian PM Justin Trudeau, who were several times at the press conference at the ELysee today. It is clear that both the image they send of young rank leaders in politics show how far we are entering a new era of diferent and refreshing politeness by the young smart minds of these world leaders.
ABOUT CULTURE & ENVIRONMENT
Responsible Author: Rahma Sophia Rachdi, Jedi Foster | Paris, Washington DC, 04/16/2018, 18:10 Time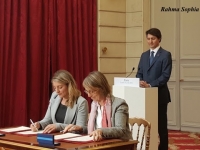 USPA NEWS -
Canadian Prime Minister Justin Trudeau is visiting from Monday in Paris to meet the President of the Republic and Edward Philippe, his Prime Minister. He explained during the statement the Press at the Elysee Palace that the friendship that binds him with Emmanuel Macron, dating back to the time when they knew each other even before being elected. Prime Minister Trudeau spoke both in English and in French, where he expressed himself in an easy way and the interests of the ECSC agreement, which "reflect the progressive values ​​of Canada" and which are aligned with those of France and Europe. "He then explained that since the establishment of the CECA, France has already benefited from an increase in trade:
"In 2017 exchange have increased + 4% and increased investment of + 23% implemented in recent months thanks to the CECA and it is an agreement good for trade with Canada and even other European countries " Prime Minister Trudeau. President Macron reminded that Justin Trudeau officially came to the Elysee for the first time for a bilateral meeting, expressed great joy to receive him with a comely look at Prime Minister Justin Trudeau.
| | |
| --- | --- |
| | RAHMA-SOPHIA RACHDI |
| | Robbie Merritt |
| | Ruby BIRD |
| | Yasmina BEDDOU |
| | Daren Frankish |
This will be shown to users with no Flash or Javascript.